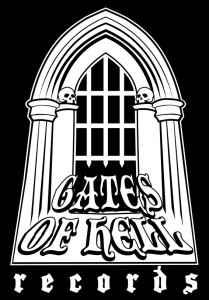 Gates of Hell Records is committed to releasing Metal bands of all styles (Heavy Metal, N.W.O.B.H.M., Black, Death and Thrash) that keep the old spirit alive.
Our aim is to support bands that are able to develop their own style and still play real, uncontaminated metal. We're looking for bands that go back to a past when metal was written and played with passion and imagination, and each band's sound was personal and strongly recognizable. At the same time, we look for bands that are deeply rooted in the boundaries of the metal genre, without any regard to fashion and trends and with no contamination  whatsoever. 
Please send a link where we can download or stream your music at info(at)gatesofhellrecords.com. We won't open unsolicited MP3 file attachments.
We obviously welcome physical copies if you are so inclined. Please send your CDs, vinyls and tapes at:
GOH c/o CRUZ DEL SUR MUSIC SRL
C.P. 5109
00153 ROMA OSTIENSE
ITALY
When submitting to us, please keep in mind that Gates of Hell is a METAL label.
Therefore we won't consider any band playing punk, crust, stoner, nu metal, glam, prog, AOR, grindcore, hardcore, crossover, folk, EBM, viking, goth, ambient, funeral doom, avant-garde, drone metal, symphonic, melodic death, melodic black etc.
Let alone bands mixing Metal with any kind of non-metal music.
ONLY METAL IS REAL.