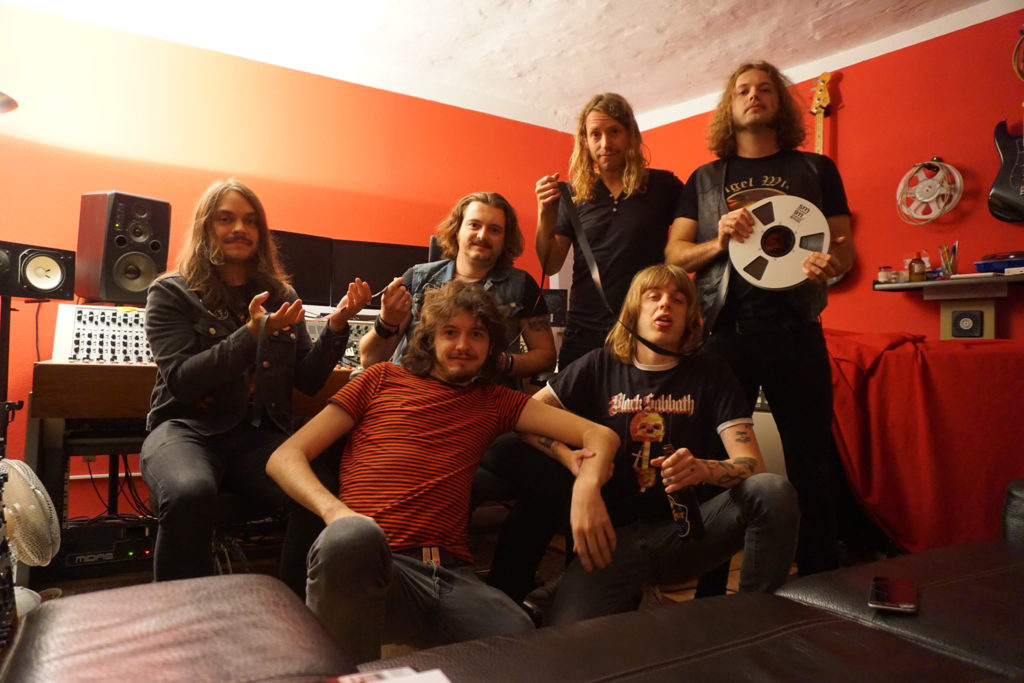 German classic metal hybrid PULVER has recently completed work on their first full-length album, "Kings Under The Sand". Due in early 2019 via Gates Of Hell Records, the album was recorded at Berlin's Big Snuff Studio with Richard Behrens serving as producer.
Guitarist Lukas Kunkel describes "Kings Under The Sand" as "more defined" than their debut self-titled 7-inch, which was released earlier this year. According to Kunkel, major influences come from traditional heavy metal, especially NWOBHM and hard rock. Under the direction of Behrens, "Kings Under The Sand" was recorded in analog, ensuring a crisp, classic metal sound. "The songwriting process was very similar to what it was like for the EP, but more targeted," notes Kunkel. "Everybody was involved, throwing ideas around and working on the details until we were all happy with the songs. In doing so, we still always tried to keep an eye on the album in its entirety. Eventually, we fine-tuned a few things during the recording sessions at the studio."
The album's artwork is created by Max Löffler and will be a continuation of the "Phantom Hawk" creature that originally appeared on the band's 7-inch. "The whole concept for the album revolves around the idea that ancient Egypt was enslaved by an alien warrior tribe known to man as the 'Phantom Hawk,'" says vocalist David Fröhlich. "The creature on the cover of our 7-inch was a scout for an alien race, who came to earth to check if mankind would stand any chance to defend itself against the invasion. The scenes on the album cover will take place seven years later in an enslaved Egypt. While the aliens have invaded the planet, humans are preparing a counterstrike at their shelter underneath the sand. The songs on the album will tell the story around it while musically reflecting the particular theme."
PULVER's debut self-titled 7-inch was recorded by Heiner Kunkel at Dreiklang Audio in the band's hometown of Aschaffenburg.
Related links:
Facebook.com/pulverheavymetal
Pulverheavymetal.bandcamp.com