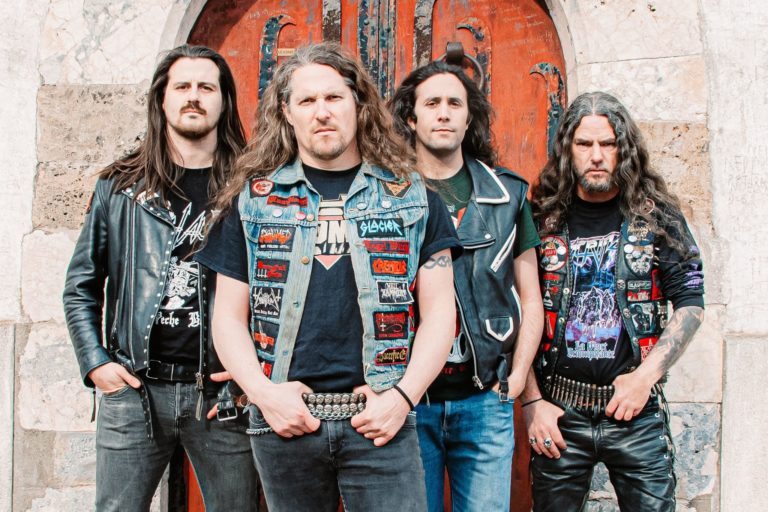 French metallers TENTATION will release their first full-length album, "Le Berceau Des Dieux", this summer via Gates Of Hell Records. Instruments were tracked this past February and March at Record It Studios in Perpignan, France, with additional refinements taking place at the band's own studio, L'art ou Cochon. The album mixed and mastered at Moontower Studio in Barcelona, Spain by Javi Félez Rodriguez.
Referring to the cradle of ancient gods preparing for their return to earth, "Le Berceau Des Dieux" (English translation: "The Cradle Of The Gods") delves deep into TENTATION's interest in mythology and ancestral legends. It's the perfect pairing to the band's inspiring blend of classic metal sung entirely in their native tongue of French.
According to bassist Guillaume "Guix" Pastor, the writing process for TENTATION is usually generated by guitarist Guillaume Dousse, after which, the rest of the band starts to work on the structure. Vocalist Patrice "Darquos" Rôhée will then pick a theme for the lyrics, although on the new album, he had some help with some local friends. Pastor says in most cases, a TENTATION song will go through at least three revisions before the final product is ready.
"We think our new songs are more mature than before," he notes. "We took a lot of pleasure in writing them and hope that heavy metal maniacs will appreciate what we created. We took the time to try to compose different atmospheres and do multiple tests of structures and riffs on several tracks. The composition work began a few months after the release of the split album [with IRON SLAUGHT] at the end of 2018."
TENTATION formed in 2012. To date, the band has their debut, self-titled 2015 EP and a single and the aforementioned split released in 2018. Therefore, a full-length is long overdue. However, Pastor stresses that the making of "La Berceau Des Dieux" was a positive one largely because of producer Javi Félez Rodriguez and sound engineer Mathieu Lesieur.
"He is a very patient and talented guy, so recording at his studio was a real pleasure. With his experience we were able to move forward quickly. We took ten years because music is just a hobby and a passion for us. But, we are very happy and honored to work with Gates Of Hell Records. It's for us a real recognition of our work. We worked hard for this album and hope it will receive a warm response from the metal scene!"