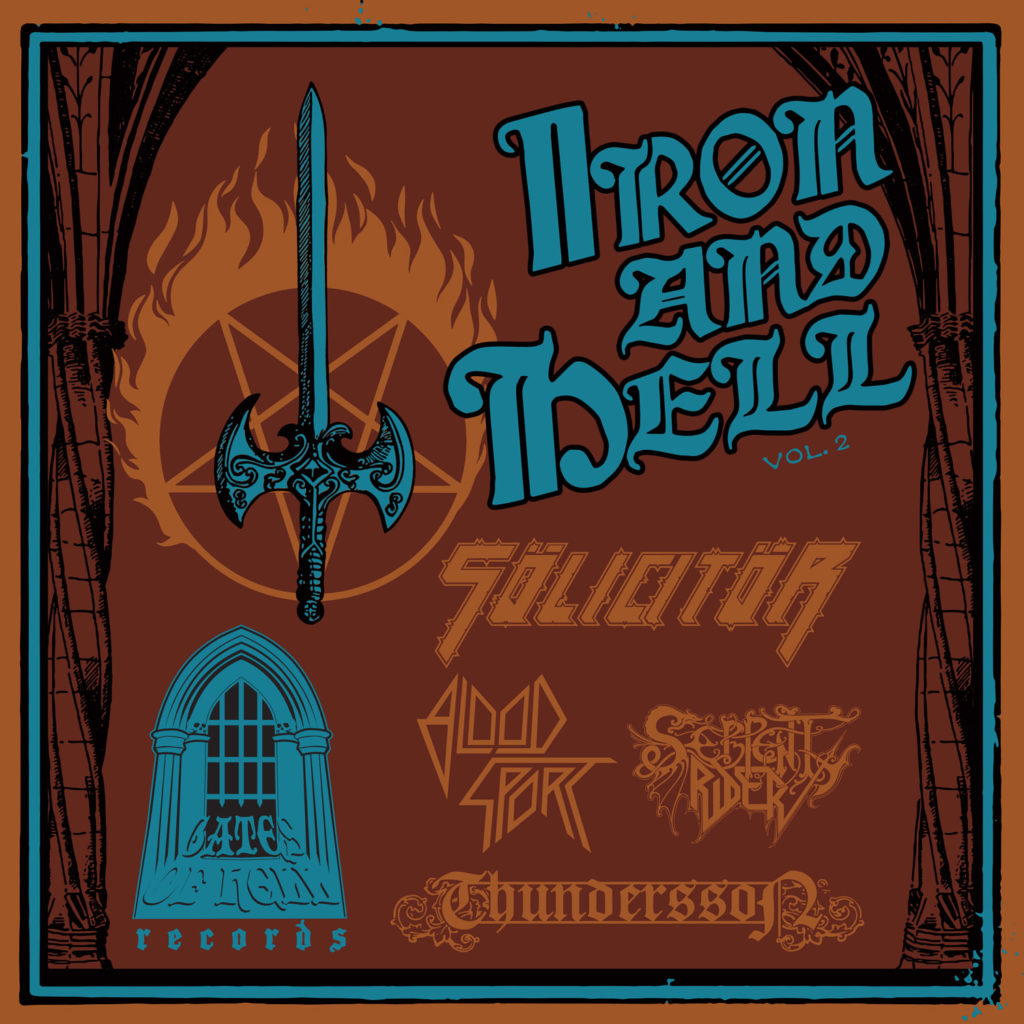 Italy's Gates of Hell Records has brought together four of the most promising names in epic speed/thrash metal for a compilation to be remembered! Sölicitör, Blood Sport, Thundersson and Serpent Rider all rise to the occasion for the glory of pure metal!
Gates of Hell Records has been prowling the underground since 2015 in search of new talent that plays metal the way it was supposed to be played: Fast, uncompromising and raw! On Iron & Hell Vol. 2, the label is giving 'bangers a fresh dose of speed with two American and two Finnish bands that are sure to assault the senses and bang the head!
Sölicitör
"The future is fast. Keep it nasty, keep it mean." Such are the words from Sölicitör frontwoman Amy Lee Carlson when encapsulating her band's unrelenting, old-school thrash sound. The follow-up to their 2020 Spectral Devastation full-length, the All Debts on Death seven-inch is included on Iron & Hell Vol. 2. and features "Killer for Hire," a classic Sölicitör speed-burner, complete with a fist-bumping chorus, while "Megalomaniac" ventures into new territory, including riffs that bring to mind legendary Norwegian black metallers Darkthrone, topped off by Carlson's soaring vocals. Now assembling material for a new studio album, Carlson's above quote couldn't ring more true: Sölicitör will it bring fast, nasty and mean!

Blood Sport
Blood Sport formed in 2020 with one thing on their mind: There wasn't enough speed metal in the scene. The members of Blood Sport took it upon themselves to change that with the Hot Blood and Cold Steel EP, which is featured on Iron & Hell Vol. 2. Self-described as the "hyperactive bastard child of Judas Priest and Venom," Blood Sport also leans into Show No Mercy-era Slayer for inspiration. The Finns ably combine all three bands on Hot Blood & Cold Steel, boasting a vast array of fleet-of-foot riffing, rafter-reaching vocals and blazing drum work that effortlessly recaptures the glory that originated in the 1980s.
Thundersson
The one-man metal Finnish metal brigade, otherwise known as Thundersson, will be making his Gates of Hell Records debut on Iron & Hell Vol. 2! Included are "Hanged, Drawn & Quartered" and "Dream Logic," two cuts that show off Thundersson's penchant for vintage, melodic speed metal akin to classic Accept, Riot and Running Wild. Stocked with charging gallops, blazing guitar melodies and rousing choruses, Thundersson is assured to be one of the most talked-about names in Scandinavian metal in no time!
Serpent Rider
From the rain-soaked climes of Seattle, Washington, comes Serpent Rider. Formed in 2018, the band brings a fresh take to classic metal by employing epic, complex song arrangements and towering riffs. It makes sense since their name was taken from the Manilla Road song "The Ram," where the legendary Mark Shelton sang, "Ride the serpent and make your stand." The band's inclusion on Iron & Hell Vol. 2 is the 2019 Pour Forth Surquidous demo. The two songs from the demo are laced with mysterious odes to occult metal giants of yesteryear with a forward-looking eye toward new, adventurous soundscapes with no limitations!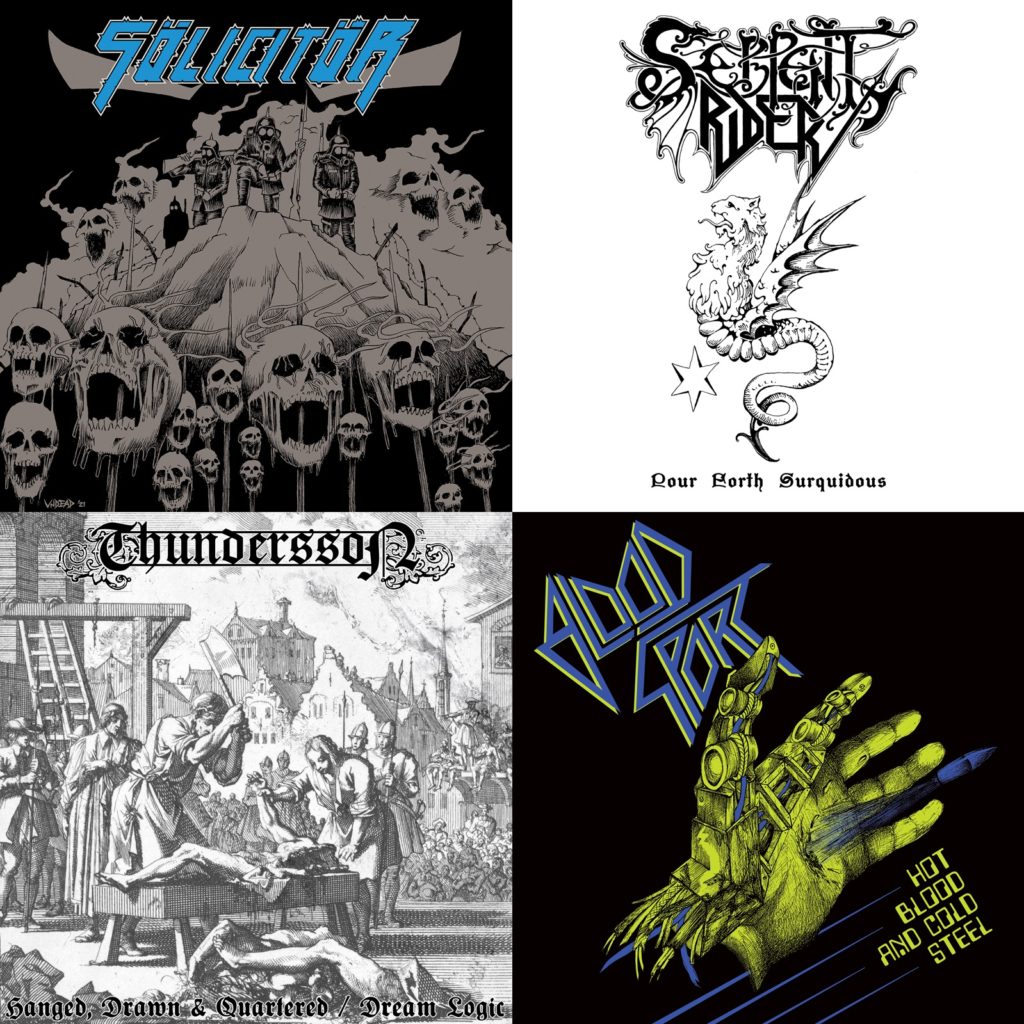 Iron & Hell Vol. 2 track listing:
Sölicitör – Killer for Hire
Sölicitör – Megalomaniac
Blood Sport – Machine Gun
Blood Sport – Sin Unto Death
Blood Sport – Niterider
Blood Sport – Steel System
Blood Sport – Agitator
Blood Sport – Blood Sports
Thundersson – Hanged, Drawn & Quartered
Thundersson – Dream Logic
Serpent Rider – Portent of Doom
Serpent Rider – Pour Forth Surquidous