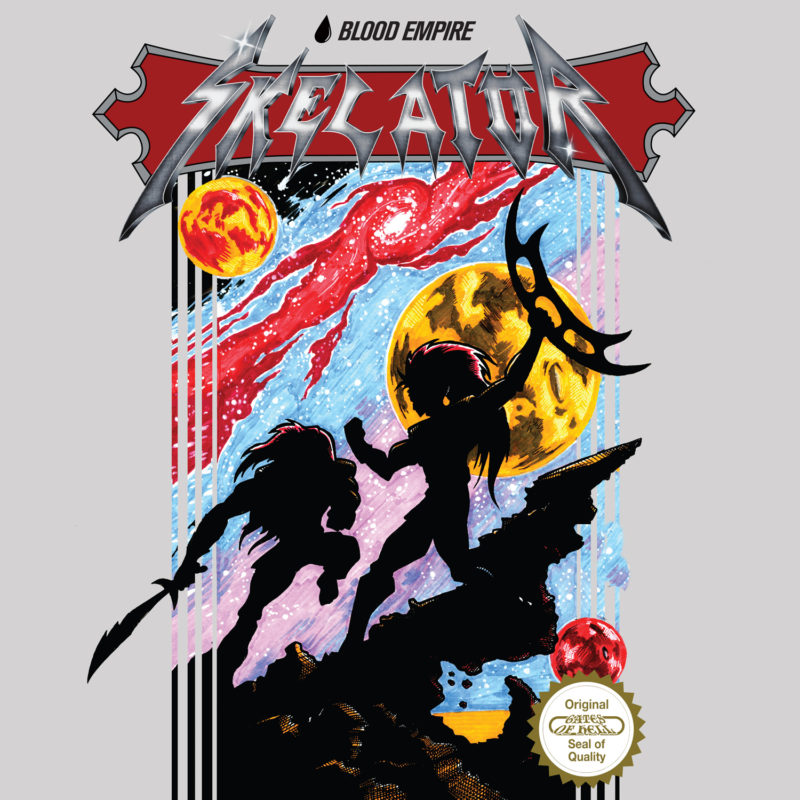 Seattle's SKELATOR will release the new "Blood Empire" EP and reissue their fourth studio album, "King Of Fear" on Sept 23 via Gates Of Hell Records — a double-dose of epic speed metal!
The "Blood Empire" EP was recorded in September and October 2021 at the band's rehearsal studio and home studios. The album was mixed by guitarist Robbie Houston, with mastering by Collin Jordan of The Boiler Room Mastering. The cover art was created by Max Nazaryan.
Like so many of their contemporaries, SKELATOR's 2020 plans — including a tour in support of their 2019 "Cyber Metal" album — were thwarted by the pandemic. It prompted the band to hunker down and focus on new material while also dealing with a lineup change.
"We had the framework of a song called 'Vengeance' which later became 'The First Empire',' says guitarist Rob Steinway. "This song was our catalyst for the rest of the songs that appear on the EP. During the first bit of 2020, we parted ways with our bassist and had our friend Leona [Hayward] join. Most of 2020 and 2021 were spent working on songs remotely, exchanging files, and recording demos until restrictions in our area were eased and we were able to rehearse in person again and actually record. After completing the music for 'The First Empire', we began working on 'Good Day To Die' as our second song, which went through several revisions as well but was also the first songs that had completely written music and lyrics before we even played through the entire thing in person as a group. 'Deeds Of Honor' and 'Bloodwine' were written and finished at the same time."
Steinway describes "Blood Empire" as "less futuristic" sounding than "Cyber Metal"; drawing influence from the epic heavy metal and thrash influenced sounds of SKELATOR's early releases and also notes the production is less pristine. Vocalist Jason Conde-Houston notes that "Cyber Metal" was inspired by German power metal bands GAMMA RAY, GRAVE DIGGER and PRIMAL FEAR with sci-fi and '80s movies, whereas "Blood Empire" tackles new lyrical themes.
"The EP is straight-up inspired by Klingon lore from the entire 'Star Trek' franchise," he says. "It's a bit more primitive in nature, but still with some very technical skills involved. I'd say that the two epic journeys will impress more than we have in the past."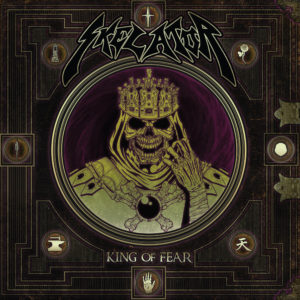 "King Of Fear" will be brought to life on vinyl — a long overdue happening considering the number of requests SKELATOR fielded from fans to have the album on this format. The album has also been purposely re-mastered for vinyl and will feature expanded cover art.
"'King of Fear' had only been released on CD and digital download — we desperately wanted to release it on vinyl, but we struggled to find anyone that was wanting to work with us on that," says Steinway. "At the time of its original release, we weren't officially on any label, just collaborating with Swords & Chains Records to get the CD distributed. Every show we played, people always ask if we had 'King Of Fear' on vinyl yet, along with requests from people to our social media pages. I think we all have personally said, 'Sometime soon; we really want to release it on vinyl' hundreds of times. We approached Gates Of Hell with the idea and they were receptive and helped us bring it to life. The art we had is great on CD, don't get me wrong, but having a larger version will really be a treat and the detail will stick out a lot more."
Outside of the release of "Blood Empire" and reissue of "King Of Fear", SKELATOR is also planning on making a return to the live stage.
"It's been two years and I think our fans deserve to hear some Heavy Metal Madness once again," says Conde-Houston. "We already have song ideas for the next release so there is no stopping this train. We will continue to deliver new material to the masses as long as there is oxygen in our lungs."
"Empire Of Blood" track listing:
Deeds Of Honor
Good Day To Die
The First Empire
Bloodwine
"King Of Fear" track listing:
King Of Fear
Stronger Than Steel
Temple Of The Witch
Sword Of The Dawn
Raging Demon
Curse Of The Black Hand
Test The Metal
Honor Is Life
Necromancer
Master of the Universe (BONUS TRACK)