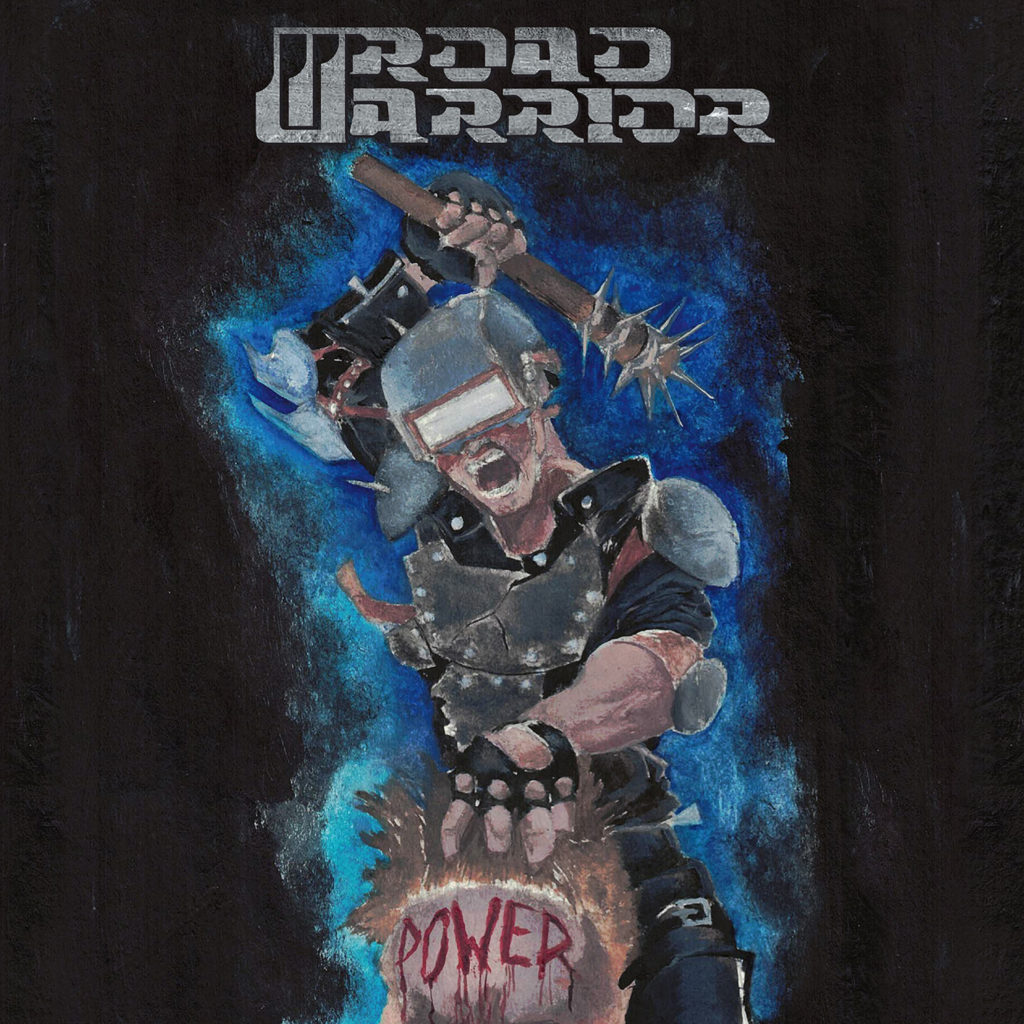 Australian true metal brigade ROAD WARRIOR will release their debut full-length album, "Power", on October 12 via Gates Of Hell Records. Featuring eight tracks of "diverse, fist-clenching, manly and classic metal," "Power" was recorded at Against The Grain Studios in Adelaide, South Australia with Andy Kite at the helm.
Comments bassist/vocalist Denimal Blake: "It is a statement of our intent: To inject 'Power' back into a heavy metal scene that has been somewhat bereft of it. Whether if it truly is an objective case or not, that is our summary and the crux of the band. When heavy metal first gained a foothold it was the personification of musical power, a very special time that is finally coming back to strength, regardless of trends, due to its dominance."
ROAD WARRIOR (who are rounded out by guitarist Overdryve and drummer Villon) are said to have recorded "Power" with "gusto, the gnashing teeth and thrusting of loins," meaning, the album's cuts are leaning heavily on the band's '80s influences as well as the proto-metal scene from the latter part of the '70s. Says Blake: "Our influences are in a blender this time, laced with the flavor of ROAD WARRIOR, METAL CHURCH, BLACKKOUT, early IRON MAIDEN, SAVATAGE, JUDAS PRIEST, LOUDNESS, RIOT, TWISTED SISTER and HEXX."
Accordingly, Blake says the album's lyrical themes are quite varied: "Sex, sex and more sex, along with a bit of historical conspiracy, power, pre-diluvial civilization and hotter sex." Tongue-and-cheek aside, Blake and his ROAD WARRIOR bandmates remain steadfast in their conviction to true heavy metal.
"We have an acute awareness of the NWOTHM [NEW WAVE OF TRADITIONAL HEAVY METAL] and know that we stand out in many ways, whether it's due to influence, locality or pedigree. Either way, I cannot speak for the ears of others, but we are supremely confident the album will live up to the album cover and title and help usher in a new age of classic rock and metal as the trends dissolve."
"Power" track listing:
Don't Fight Fate
On Iron Wing
Devils In Waiting
I Am The Hunger
Tease n' Torture
Sweating Out The Poison
Back Alley Tokyo Woman
The Future Is Passed