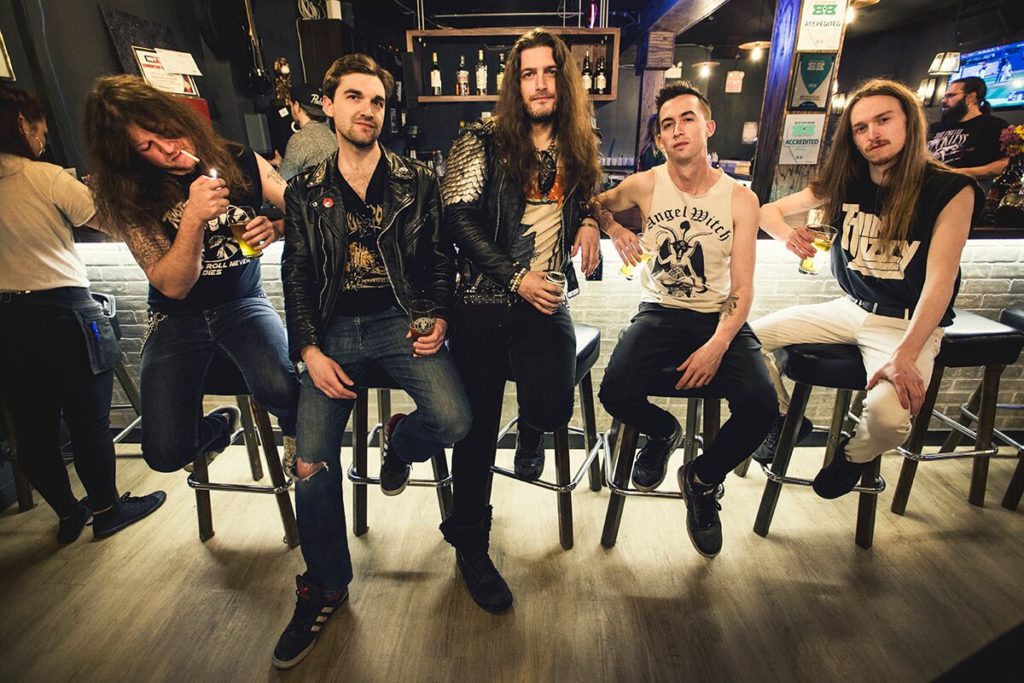 Upstart Canadian metallers TRAVELER are currently recording their second full-length album, due in March 2020 via Gates Of Hell Records. The band's 2019 self-titled debut was released to critical acclaim, with Toilet Ov Hell hailing it as a "starbreaking smash" and Metal Observer calling it a "strong contender for album of the year."
"It's been an amazing year," says guitarist, founding member and primary songwriter Matt Ries. "It has exceeded our expectations way beyond what we thought, and is a really good introduction to what's to come! Playing Western Canada, to Chicago, all the way to Germany, it's been a great learning experience on how to improve our shows. It's been an amazing ride. We can't wait to keep this train rollin'."
According to Ries, TRAVELER's new album is "nearly completely written," with the band needing to tighten up a few things while they continue to track drums. Like their self-titled album, Jan Loncick will be manning the production board. "We will be doing this similar to what we did last time, except we'll be stepping up the production just a little more," says Ries. "No triggers, though. Never triggers. But Jan knows what we want and how to deliver the goods. We've always had great chemistry with him so why fix what ain't broke?
"The songs are more in the same vein, but with more dynamics to the structures," he continues. "There are some blazing fast songs and some slower, feely-tunes, and some right in the middle. There's more to work with this time around."
Ries and TRAVELER have more to work with largely because the band had some leftover songs from the self-titled album. Furthermore, there has been additional input from vocalist Jean-Pierre Abboud, who has taken over most of the lyrical duties, and bassist Dave Arnold, who has contributed a song from his previous band, STRIKER.
"Also, our new friend JP Fortin of DEAF DEALER has gifted us a song of his that never made it to a DEAF DEALER album," notes Ries. "It's an absolute honor to do this for him. So, with the two songs I didn't write, it alleviated some pressure to take on all the writing again. It's a way different approach this time around with JP and Dave's help. I still don't know how most of these will sound when it's complete, which is a little nerve-racking, but exciting at the same time."
Ries says TRAVELER is almost done booking their 2020 "Warriors Of The North" European tour. The band will also be playing the "Hell's Heroes" festival in Texas later in 2020. Coupled with the new album, some new art and merch and 2020 is looking bright for TRAVELER. "It's going to be a banger," says Ries. "We're stoked to see everyone there. Thank you all for the support!"