Gates of Hell Records is extremely proud to present Anal Vomit's return with their 4th full length album "Peste Negra, Muerte Negra". Prepare for an overdose of pure, uncontaminated, satanic death as taught by the Ancient Gods, with razor sharp solos, machine gun-like drums and  straight out of hell vocals.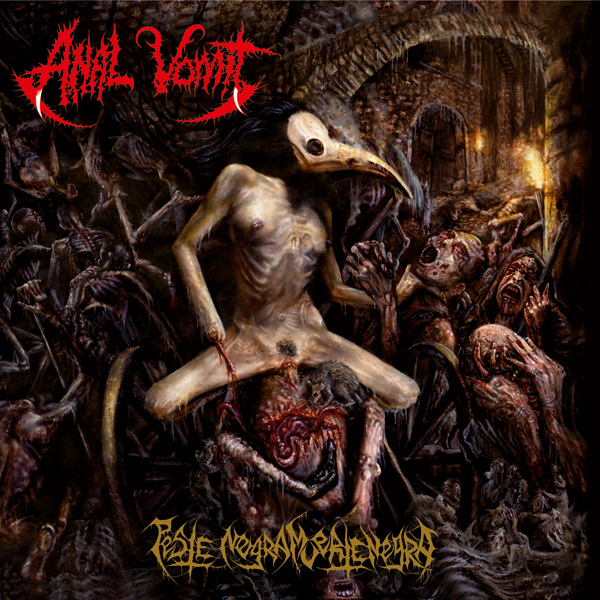 The album is licensed for Europe and North America from Icarus Music and features the sick artwork of MOTTLA ART.

It will be available  on CD, in a die-hard vinyl edition, in a limited colored vinyl edition and on regular vinyl.
– The die-hard edition includes a brown vinyl LP, a huge woven patch,  a t-shirt and a sticker – ONLY AVAILABLE FROM OUR SITE
– The limited edition includes an oxblood vinyl LP and a sticker.
Vinyl editions also include a cover of SARCOFAGO's "INRI" as a bonus track.
TRACKLIST:
Brebaje de Muerte
Valle De Tinieblas
Obsessive Sexual Slaughter
La Muerte del Papa (Interludio)
Dios Muerto
Venganza Obscura
A Savage Fornication
Estado Comatoso
Pact to Kill (Outro)
INRI (* vinyl only)
Formed in 1992 in Lima, Perù, and after releasing a bunch of demo tapes and EPs, Anal Vomit unleashes one of the most amazing South American death metal albums of the 90s, "Demoniac Flagellations". With their following records "Depravation" and "Gathering of the Putrid Demons", Anal Vomit definitely established themselves as one of the leading South American death bands.
Influenced by old thrash metal and by legendary acts such as Sarcofago, Holocausto, Sextrash, Vulcano and Possessed, these Peruvian tyrants play blackened old school death/thrash the way it was meant to be, Anal Vomit take you back to a time when death metal was not about gore, but about Satan, leather, spikes and Hell.