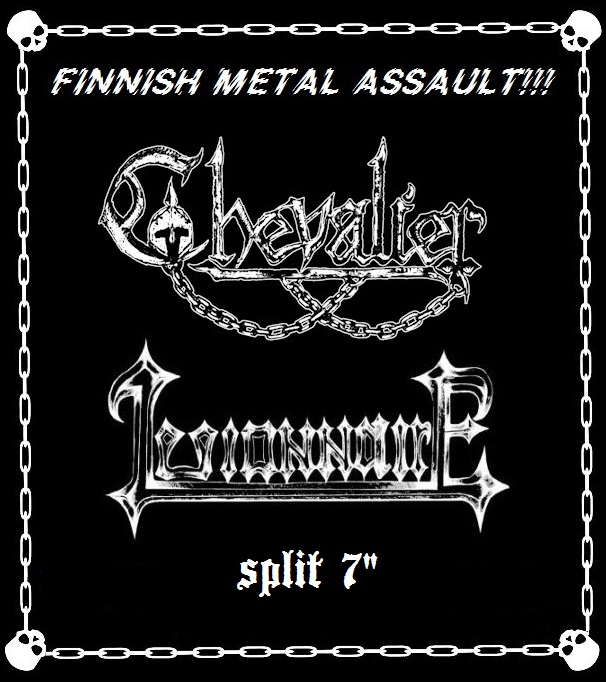 Representing a new breed in Finnish classic metal, CHEVALIER and LEGIONNAIRE will be teaming up for a split release via Gates Of Hell Records. The split – featuring one song from each band – will be recorded at Black Floyd's Analog Studio in Hämeenkyrö, Finland. The recording will also mark the first Gates Of Hell release for CHEVALIER.
Comments CHEVALIER guitarist Tommi Puurunen: "We asked LEGIONNAIRE to do a split with us after playing gigs together to show the rest of the world a collaboration of Finnish metal played the way it never really has been played around here. Our side of the split is a fast-paced ripper taking you back a few centuries…"
"We are good friends with CHEVALIER and we are eagerly looking forward to the sessions and the release," adds LEGIONNAIRE drummer Akseli Häärä. We are quite confident about the split release because we think the combination of LEGIONNAIRE and CHEVALIER is killer! That has already been proven since we've shared the stage with them a couple of times. There will be lots of epic guitar action, medieval tunes and speed coming up! Our song is a solid follow-up to the freshly-released full-length."
Formed in 2016 in Helsinki, CHEVALIER took the underground by storm with its "A Call To Arms" EP. Recorded in the band's rehearsal room, "A Call To Arms" showcased the banshee screams of vocalist Emma Grönqvist alongside furious IRON MAIDEN gallops and MERCYFUL FATE-like song structures.
LEGIONNAIRE already has one Gates Of Hell release to their credit – this year's stalwart "Dawn Of Genesis". Heralded for its relentless dual-guitar action and emotive vocals of Aku Tiensuu, "Dawn Of Genesis" instantly made LEGIONNAIRE a favorite among old-school metal fans. Prior to "Dawn Of Genesis", the band released two demos before signing with Gates Of Hell.