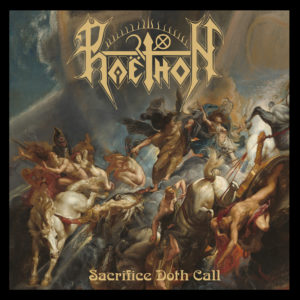 Gates Of Hell Records is proud to announce the signing of London, England's PHAËTHON. The label will release the band's debut "Sacrifice Doth Call" mini-album on CD and vinyl in Feb 2021.
Formed during the plague of 2020 by vocalist/guitarist/keyboardist Vrath and bassist Aees, with drummer Herr Berthelsen completing the lineup, PHAËTHON is hell-bent on delivering ripping old-school heavy metal of the epic persuasion.
The name PHAËTHON refers to the bastard son of the sun-god Helios, who seized the reins of his father's chariot, nigh ramming the sun into the earth. Only Zeus' thunderbolt evaded the planet's imminent doom. This misguided relationship between man and his invention dominates the lyrical subject matter — be it Mayan human sacrifice, Christian hangings, or conflicts of Apep and Horus.
Tribute is paid to old masters like MANILLA ROAD, BATHORY and CIRITH UNGOL, along with the NWOBHM legends such as PAGAN ALTAR, SATAN and JUDAS PRIEST. The resultant five-song "Sacrifice Doth Call" is a bristling testament to these bands and the spirit of classic, timeless heavy metal.
"The songs on the EP must have been with me for more than five years," says Vrath. "I'm always writing music, but never truly found an outlet for them. Two or three years ago I decided enough was enough and asked my good friend Herr Berthelsen to lay down some drums for the tracks really for no other reason than to have them out of my head. Now nothing came of the takes for several years until I finally found the time during lockdown to start working on what would become PHAËTHON. By 2020, I had been practicing my vocals and solos and finally felt confident taking on the project with full force. The results blew us all away and the decision was made to form a band and look for a label…and here we are."
The current pandemic has provided bands with enough hurdles and logistical issues to last a lifetime. For the members of PHAËTHON, geographic challenges reared their head: Vrath, who is originally from Finland, is based in London; Aees in Greece and Herr Berthelsen relocated to Vancouver and has since been replaced by former Amulet drummer Dave Sherwood.
"Modern technologies allowed us to record our bits remotely, always making sure the sound was true to the cause," notes Vrath. "I'm usually insistent on sitting in on the mixing, but this time I handed free reign to Cam Shuck Productions who is also based here in London. But, I got to admit Cam did a brilliant job even without me!"
"Sacrifice Doth Call" track listing:
Sacrifice Doth Call
Suncrater
Bless Us, O Ra
To The Gallows
The Final Beholder
Related links:
https://phaethon.bandcamp.com/