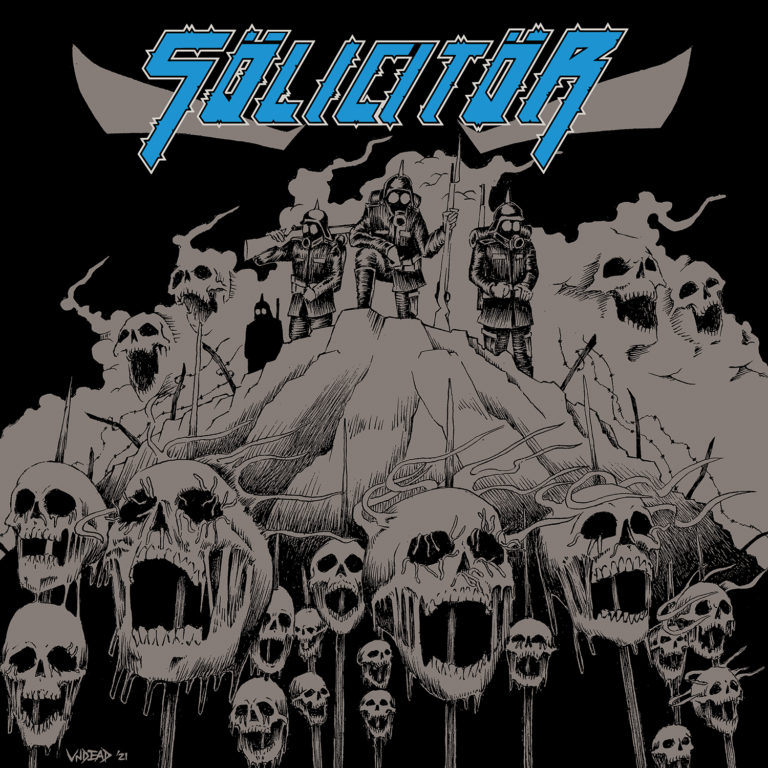 New 7-inch from one of North America's most exciting new speed metal bands!
Hot off the heels of 2020's no-holds-barred Spectral Devastation, Sölicitör returns with the stopgap All Debts on Death 7-inch that charts new territory while still offering first-pumping speed metal anthems!
Shortly after the release of 2020's Spectral Devastation, the members of Pacific Northwest speed metallers Sölicitör took a long, hard look at the process that went into the album's creation. The band raced to finish Spectral Devastation with an eye toward their first-ever appearance at the legendary Keep it True festival in Germany and European dates that would follow, shows, that, unfortunately, were canceled due to the global pandemic. In doing so, Sölicitör felt they rushed some of the key elements of the album's songwriting, even though the reaction to the songs was almost universally positive. Going into 2021, Sölicitör decided to push themselves to write songs that were more aggressive and formidable. Enter the searing two-song All Debts on Death 7-inch.
All Debts on Death was recorded in late February 2021 at Sentinel Studios with producer/engineer Detto, who has recently gained attention for his organic production jobs for death metal bands Cerebral Rot, Mortiferum and Oxygen Destroyer. Detto tracked the band on half-inch tape, then recorded the tape to a digital program where guitars and vocals were laid down, ensuring a full and heavy sound.
As a natural function of their collaboration with Detto, Sölicitör ventured into new territory regarding production values. The two songs are devoid of effects, albeit some minor reverb on the chorus on the vocals, although vocalist Amy Lee Carlson opted to completely forego doubled harmonies. The rhythm section of Damon Cleary-Erickson (bass) and Johan Waymire (drums) is much higher in the mix, further complementing the guitar duo of Matt Vogan and Pat Fry. However, the "less is more" approach for studio production doesn't hinder the two songs. "Killer for Hire" is a classic Sölicitör speed-burner, complete with a fist-bumping chorus, while "Megalomaniac" ventures into new territory, including riffs that bring to mind legendary Norwegian black metallers Darkthrone, topped off by Carlson's soaring vocals.
As positive signs gradually start to emerge from the pandemic, Sölicitör is chomping at the bit to return to the live stage. In the meantime, the band is slowly assembling the pieces for their next studio album — due sometime in 2022. Consider All Debts on Death a sign of what's to come!
All Debts on Death track listing:
Killer for Hire
Megalomanic
Sölicitör lineup:
Amy Lee Carlson -Vocals
Patrick Fry – Guitar
Matt Vogan – Guitar
Damon Cleary-Erickson – Bass
Johann Waymire – Drums