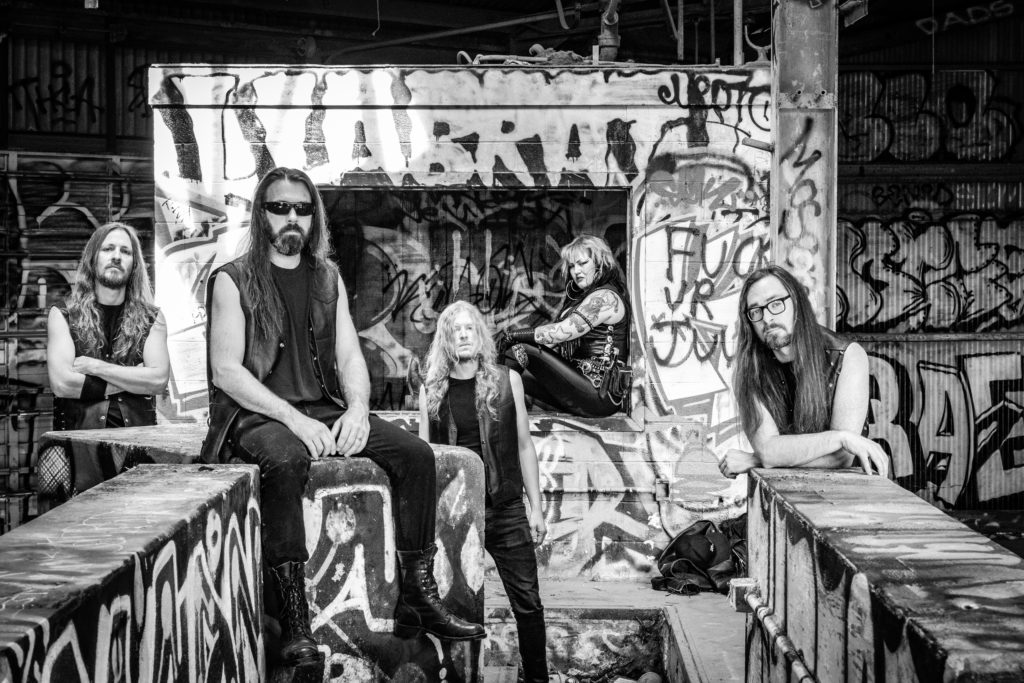 Seattle speed metal upstarts SÖLICITÖR have inked a deal with Gates Of Hell Records for the reissue of their debut 2019 EP, with a proper full-length album to follow next spring.
Formed in 2018 after the split of Seattle bands SUBSTRATUM and HEXENGEIST, SÖLICITÖR plays a brand of breakneck thrash carried through by the banshee vocals of Amy Lee Carlson. Because of Carlson's presence and the band's seamless blend of power, speed and thrash metal, SÖLICITÖR will immediately appeal to fans of CHASTAIN, LIEGE LORD, MERCYFUL FATE, EXCITER and "Painkiller"-era JUDAS PRIEST.
SÖLICITÖR, who are rounded out by the guitar tandem of Matthew Vogan and Patrick Fry, bassist Damon Cleary-Erickson and drummer Johann Waymire, had the deck stacked against them when choosing their name. Like so many current bands, the number of good names available is dwindling, but in a prescient move, SÖLICITÖR chose a name that wouldn't pigeonhole them, while including the always vaunted umlaut in the fashion of MOTÖRHEAD and MÖTLEY CRÜE.
"We didn't have many choices to pick from as far as originality or graphic simplicity," says Carlson. "Single words and a bold logo almost always work best regardless of the name itself. It's ambiguous and gives no clue as to what we might sound like. Plus, it's kind of sleazy and makes you wonder who the hell we are."
The band's correspondence with Gates Of Hell started when SUBSTRATUM was still active. But once Carlson sent over some initial demo tracks, SÖLICITÖR quickly became the newest member of the Gates Of Hell roster. Their first release for the label will be the reissue of their self-titled debut EP, which was recorded by Cody J. Brumlow of WEAPONLORD in Mountlake Terrace at Hangar 12 Studios. "Matthew had a handful of songs on the backburner, and once Patrick got a hold of them, things progressed quickly," notes Carlson on how the EP came together. "We had nothing holding us back and everything to prove — we're hungry for whatever comes next and we hope to keep delivering with vengeance."
While SÖLICITÖR lays the groundwork for their first full-length album, the band is currently laying to waste audiences across Canada and the Midwestern part of the United States. Before you know it, the band will be bringing their firebrand take on thrash metal overseas.
"We'll be playing with ROADRASH from Vancouver and SEAX from Massachusetts in Seattle, and for our Portland date in September, we'll be joined by BEWITCHER," wraps Carlson. "We were just confirmed for Street Metal Massacre Fest in Philadelphia on October 19 with WHIPLASH, BITCH and BONEHUNTER. And of course, we are looking forward to seeing you all at Keep It True 2020 in Germany!"