Gates Of Hell Records is proud to announce the signing of German blackened thrashers NEKKORMANIAC for the vinyl release of their 2021 "Plague Eater" full-length album. The LP will be issued on May 27, 2022.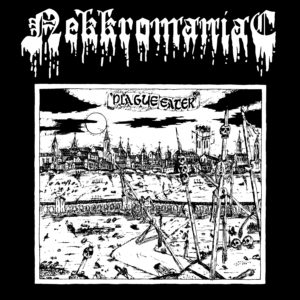 NEKKROMANIAC's creation dates back to 2008 when vocalist Akheron and guitarist Ægror launched PEREMPTOR, a thrash band that recorded a three-song demo. However, the group disbanded after lineup changes and differences regarding musical direction. The two men quickly teamed up friends Impiöus (bass) and Beheader (drums) in DIOXIN, which was then rebranded as NEKKROMANIAC to reflect a darker and more devastating sound. The band released the "Nekkrofukk" EP in 2015 and launched the Hell's Crusade festival held in Pirmasens, Germany, establishing NEKKROMANIAC as a leading force in cult, underground Teutonic thrash.
"Plague Eater" eventually caught the eye of Gates Of Hell Records. The parties cemented the deal shortly after that.
Comments Ægror: "'Plague Eater' is the force that lingers in the abyss and pulls you down into the endless dark before you know it. Destined to eternal suffering. NEKKROMANIAC is DEATH. METAL."
NEKKROMANIAC's sound characterizes the no-holds-barred, blitzing, battering-ram sound unleashed by extreme metal innovators BATHORY, HELLHAMMER, POISON (Germany) and SODOM, who are the band's primary influences. It's a sound that is unforgiving and rooted in the 1980s — devoid of trends and posers.
"We're sinking into the old, grim and dark," says Ægror. "But we are all listening to individual spectrums of metal music and all these influences are very relevant when it comes to songwriting. We do have all different preferences. For example, Akheron's main influence for vocals is MERCILESS from Sweden, who recorded the evilest sounding record of all time with 'The Awakening'. You can go on with such comparisons forever and never come to an end. What you can say is that we all celebrate the dark and crude sounds of the old metal."
"Plague Eater" track listing:
1. Plague Eater
2. Black Death
3. Napalm Funeral
4. Awaken The Depths
5. Pit And The Pendulum
6. Sacrifice
7. Bleed For The Master (A Tribute)
8. Tyrant's Command