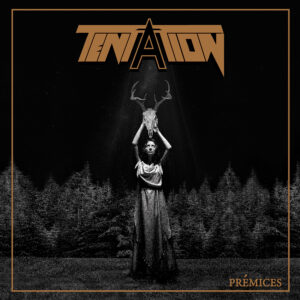 Torreilles, France heavy metalers TENTATION have commemorated their first ten years of existence with the Prémices anthology. The release will see the light of day on April 21, 2023 via Gates Of Hell Records.
Comments the band: "Gates Of Hell Records wanted to repress our first EP on vinyl, something we always refused to do since its 2015 release. The label then offered us a new alternative with this anthology idea with all the original titles released between 2015 and 2018 because there is a real demand. The project thrilled us, but we wanted additional elements. The disc is an artifact for us — a precious asset that we wish to leave in the original version because it is a witness of our beginnings and an object cherished by all those who supported us by buying it at the time."
Prémices will include all cuts from the band's 2015 self-titled EP and 2018 split with IRON SLAUGHT.
The anthology will also be affordable for fans who have paid exorbitant fees for the original versions.
"The prices for the original EP on certain reference sites are simply ridiculous," says the band. "We wanted everyone who discovered us with 'Le berceau des dieux' to access what we had released in previous years. So that the first fans can also have something fresh, we added a new mastering made by Javi Félez Rodriguez and a new cover created by Viltisvm, an Indonesian artist. Annick Giroux took care of the layout, too. Also, the song 'Shaman' which was only released on the CD version and a 7" will be on 'Prémices'."
The first ten years have helped the members of TENTATION discover new sides to themselves. It has also set up them up for future success — the band is just starting to think about new songs to follow up "Le berceau des dieux".
"We have established a strong friendship, accepting each other's qualities and faults," closes the bands. "Spending time together on the road has taught us to open up to each other and be more tolerant. These ten years have passed at breakneck speed and we are very happy and proud of this joint adventure that will bind us forever."
TRACKLIST:
Bruixes
L'Epreuve du Sang
Valhalla
Temps de Priere
Spectre de Lumiere
Illusion
Juge Sanglant
Souviens Toi
Shaman