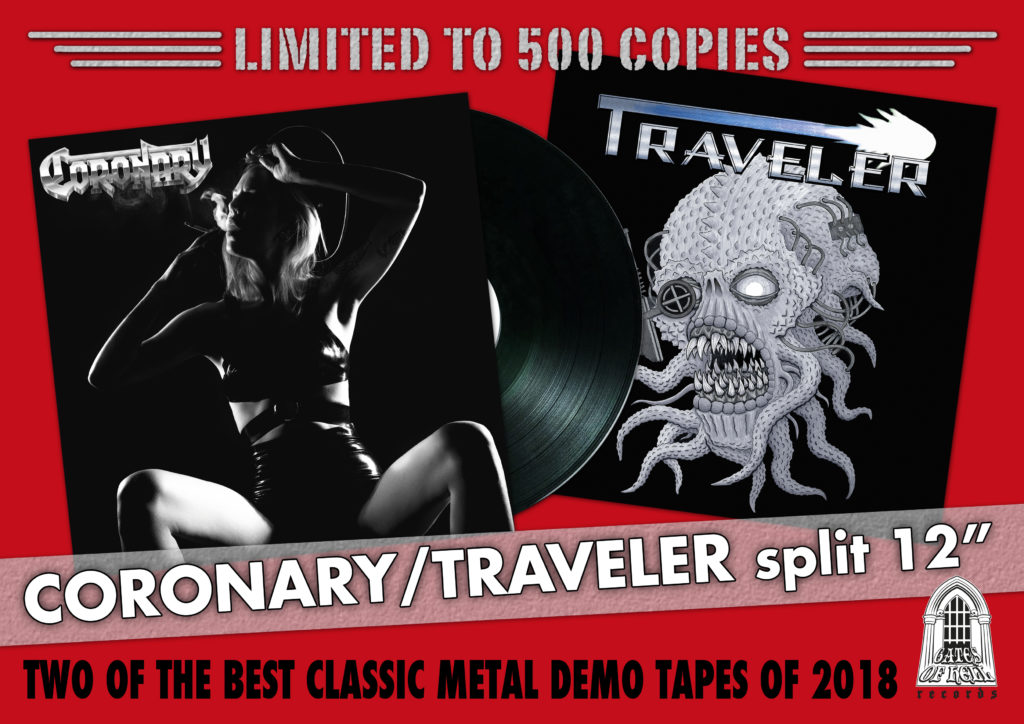 PRE-ORDER HERE!
Never underestimate the power of a good demo tape. Ever since Metallica brandished their legendary "No Life 'Til Leather" demo in 1982, the metal scene has actively sought out new and emerging bands through this simple, but effective medium. Even though the age of digital recordings and the convenience of the internet has removed some of the romanticism in creating and ultimately unearthing a hidden gem, the classic three-song demo tape lives on in 2018. Case in point: Finland's Coronary and Canada's Traveler, who have combined their respective debut demos for a split release via Gates of Hell Records.
Like any good split, this particular offering provides the best of both worlds when it comes to vintage, striking classic metal.
Coronary, who formed in Tampere in 2017, when a pair of Finnish metal veterans, guitarist Aku "Herr Lederwurst" Kytölä and drummer Pate "Batvik" Vuorio, reconnected after bumping into each other at a local flea market, strike first with their German-influenced, unvarnished take on freewheeling '80s metal. Flashy and spiraling leads emerge from every corner, while the dirty, rough-and-tumble vocals of Olli "The True Herman" Kärki, emerges as the necessary bridge between the band's notable German/Euro influences that bringing back to mind bands like Accept or Torch and early 80s melodic American metal leanings.
The 2017 creation of guitarist, bassist and primary songwriter Matt Ries, Traveler is rounded out by Gatekeeper vocalist Jean-Pierre Abboud and drummer Chad Vallier. The band's contributions to the split are marked by an up-tempo, almost relentless style of ground-and-pound metal, reminiscent of the best of Deaf Dealer and 80s Canadian classics going toe-to-toe with Iron Maiden. And, much in the same way he fits Gatekeeper like a glove, Abboud proves to be just as good of a fit in Traveler, becoming the perfect offset to Ries's penchant for quick, rifling twin-guitar harmonies.