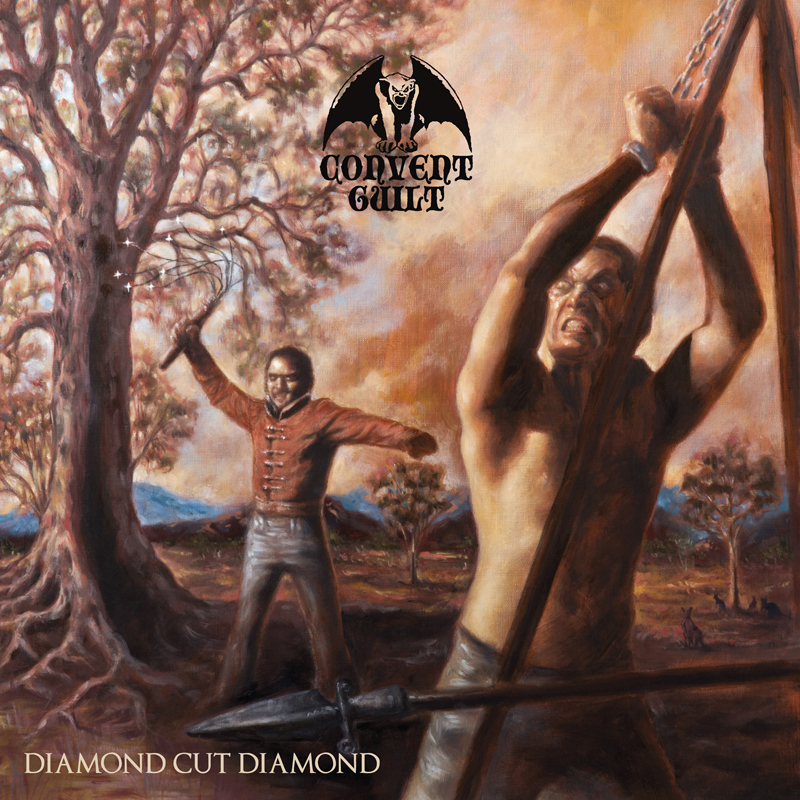 "Diamond Cut Diamond", the second full-length album from Australian true metal quartet CONVENT GUILT, is set for a November 9 release via Gates Of Hell Records.
The follow-up to 2014's "Guns For Hire" was recorded at various locations around Sydney in the first half of 2018 by Lachie Vercoe, who was also responsible for the album's mix. "Diamond Cut Diamond" was mastered by Patrick Engel at Temple Of Disharmony. The album's striking cover art featuring a strong colonial Australian image was created by Lena Richter of Diamonds and Rust Tattoos.
Possessing the same classic metal swagger as found on "Guns For Hire", "Diamond Cut Diamond" contains seven slabs of song-oriented metal, graced with well-placed tinges of melody and NWOBHM influences. CONVENT GUILT (who feature bassist/vocalist/primary songwriter Ian, the guitar tandem of Andrew and Dario, and drummer Brent) have once again placed focus on emotion and energy over soulless musical precision, resulting in a must-listen for fans of early IRON MAIDEN, SAXON and TRESPASS.
According to Ian, the songwriting process for "Diamond Cut Diamond" was an organic one, although the band was sure to take their time when writing their all-important sophomore album. "Songwriting happens when it wants to rather than when I sit down to focus on it," he says. "The oldest tracks on 'Diamond Cut Diamond' were written before 'Guns For Hire' was released. Even the newest tracks have been around a while. We rehearsed the tracks quite a bit and recorded rough demos to fine-tune our approach. With a bit of luck, this has added extra layers to the songs without compromising the band's raw energy."
Employing lyrical themes that, according to Ian, touch upon Australia's "rich and dusty history," "Diamond Cut Diamond" proves to carry plenty of philosophical weight as well. "Some of our lyrics deal with conquerors and the subjugated, the inbuilt weakness of men, depression-era outlaws and the insanity of social media. It's a mixed bag thematically, but as always, lyrics are a vital part of what this band is about."
It's been four years since the release of the last CONVENT GUILT LP, so, as you could imagine, the band is chomping at the bit to unleash the album upon the waiting ears of the metal scene. As "Diamond Cut Diamond" shows, the wait was well worth it. "I'm sure it's the same for most bands, but getting an album out seems like such a massive weight off our shoulders – it's a 'release' in more ways than one," says Ian. "We won't rest on our laurels, but we'll enjoy the relief and achievement as well. A couple of us have other projects we're working on, so we're giving those a bit more attention. And we're riding the usual waves of life to wherever it takes us."
"Diamond Cut Diamond" track listing:
1. Howling Vengeance
2. Born To Trouble
3. Powder Dry
4. Scream Out Your Heart
5. Bonnie And Clyde
6. Thief In The Night
7. Foxes Run