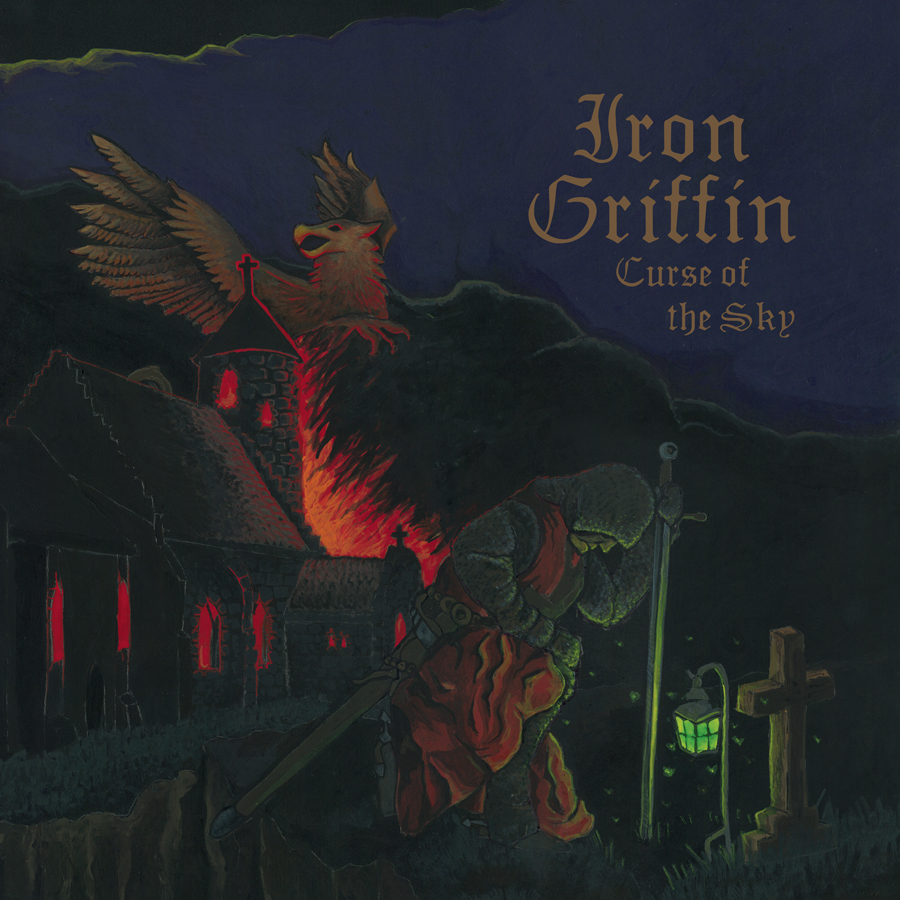 IRON GRIFFIN, the vintage metal project from MAUSOLEUM GATE drummer Oskari Räsänen, will release its first full-length, "Curse Of The Sky" on March 22 via Gates Of Hell Records.
LISTEN TO "REIGN OF THUNDER" on BANDCAMP!
The follow-up to the band's 2017 self-titled EP, the instrumentation for "Curse Of The Sky" was recorded in July of 2018 at Räsänen's rehearsal room in Kuopio, Finland. Vocals were tracked in Joensuu, while synthesizers were recorded in Helsinki. Like the self-titled EP, "Curse Of The Sky" finds Räsänen once again handling all instrumentation and recording the album himself. He is joined by a new face, female vocalist Maija Tiljander, who he discovered several years ago singing European power metal covers in a Finnish bar. Impressed, he took a mental note of Tiljander's abilities and when it came time to work on "Curse Of The Sky", he felt compelled to track the vocalist down.
"I found her through social media and straightly asked if she would be interested in an album project like this," he says. "She responded, 'Of course I am!' Long story short, I did not know her before, I took a bus to Joensuu with my portable recording equipment and we had a pleasant demo session. I was really impressed with her abilities and sound and how greatly she adapted my ideas. Maija's vocals give really unique twist to IRON GRIFFIN. This kind of metal is enchanted with powerful and high-pitched vocals is something really unique and cool."
"Curse Of The Sky" traverses the familiar road of classic, proto-metal, with Rasanen's savvy songwriting being the guide as he takes the listener through songs of fantasy and folk tales. Inspired by U.S. power metal and progressive folk/rock, Räsänen also looked toward doom metal for atmosphere and melancholy. "I tried to channel epic-ness in the instrumentation and especially in the vocals. I was highly influenced by the vocals in MAJESTIC RYTE, ENCHANTER on their 'Defenders Of The Realm' album and STORMBRINGER's 'Stealer Of Souls'. But on the other hand, folk bands like PENTANGLE, RENAISSANCE, MELLOW CANDLE, COMUS, MIDWINTER, CHIMERA, MORITA DOJI, HAKO YAMASAKI have all stuck so hard in my subconscious. If you're aware of this kind of music, you might hear something similar and familiar in 'Curse Of The Sky'."
While he's very much comfortable in a full band environment like MAUSOLEUM GATE, in IRON GRIFFIN, Räsänen admits that working alone does present its share of obstacles, especially when he wants to try new ideas out. But, through the process of elimination and sheer perseverance, Räsänen is often able to emerge with songs he can stand by, which is why he will continue to do all instrumentation himself.
"The best thing about doing music by yourself is that there are no boundaries, you can do whatever you want," he says. "There is no one presenting bad opinions or shitty riffs, ha-ha! If you want to make even more over-the-top vocal melodies or anything weird and un-acceptable, you can just do it. No compromises have to be done. When working as a full band, it's always about making compromises and struggling through what is good and what is not from everybody's opinion. That is why making your own music in your own ways is really refreshing. At least for me it is. Still, the greatest motivation to make a full-length was to challenge myself and become better both in composing music and playing various instruments."
"Curse Of The Sky" track listing:
1. Prelude
2. Reign of Thunder
3. Forgotten Steel
4. Lost Legion
5. Curse of the Sky
6. Dawn of Struggle
7. To the Path of Glory