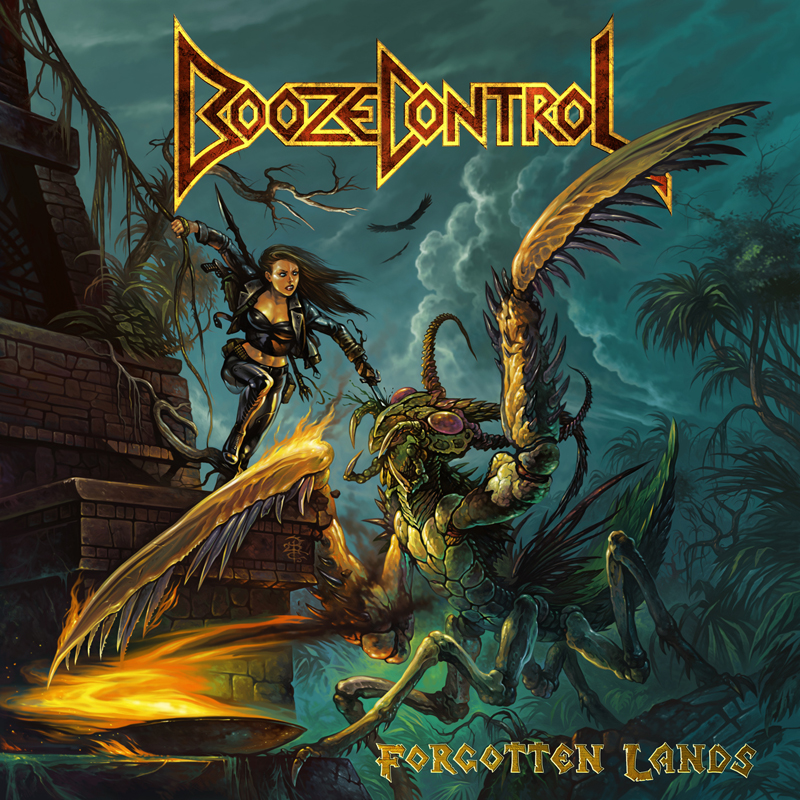 German metallers BOOZE CONTROL have set a February 22 release date for their fourth full-length album and first for Gates Of Hell Records, "Forgotten Lands". The album was recorded in October 2017 at Overlodge Recording Studio in Harz Mountains, Germany, with Martin Schnella handling engineering duties.
"Forgotten Lands" is the embodiment of a band now in full songwriting stride. BOOZE CONTROL's engaging blend of NWOBHM-inspired classic metal shines through on the album's ten cuts. "The two previous albums really helped us find and define our style as a band," says vocalist/guitarist David Kuri. "We feel that we got it now, so 'Forgotten Lands' is less of a search and more of an arrival. This doesn't mean that it's boring now — on the contrary, it allowed us to be more confident when deliberately diverging from that style, so there is quite some experimenting going on on top of the solid heavy metal foundation we defined for ourselves."
Kuri says BOOZE CONTROL (who are rounded out by second guitarist Jendrik Seiler, bassist Steffen Kurth and drummer Lauritz "The Lord" Jilge) often come up with songs during rehearsal where they swap riffs and ideas. Some of the songs on "Forgotten Lands" stem back to the band's 2013 "Heavy Metal" and 2016 "The Lizard Rider" albums, but always go through the same process with Kuri and fellow guitarist Jendrik Seiler adding finishing touches. One element on "Forgotten Lands" is sure to stand out: BOOZE CONTROL has adopted a much more serious lyrical tone than their previous efforts.
"'Forgotten Lands' mostly tells fictional stories inspired by books, movies, television, video games or scientific findings," says Kuri. "The title song — a first for us — and 'Slaying Mantis' specifically give some context to the album artwork. 'Playing With Fire' is the only more 'worldly' song, in the sense that it is inspired by recent geopolitical events, though I wouldn't call the song itself political and BOOZE CONTROL definitely isn't. There are also a lot of small cross-references between the songs, some of which actually have a meaning while others just send you on a fun journey of interpreting the songs in a broader context.
"Thematically, we also work with the topics of discovery and arrival in the lyrics. The title song is about discovering the new, even after you have already made some headway. Songs like 'Spellbound' and 'Slaying Mantis' expand on that and hopefully convey that we are still trying to find new approaches to both music and life, while building on what we have already found."
The "Forgotten Lands" cover art was created by Dimitar Nikolov (Keep It True, ROSS THE BOSS, STEELWING, SACRAL RAGE). Nikolov was asked to create the "Forgotten Lands" album cover due to the overwhelming response to the band's previous two album covers, which he was also responsible for.
"Dimitar is a great help in shaping the current identity of the band," says Kuri. "I think the idea of depicting the confrontation with the giant Praying Mantis was there first, and then quickly sparked the idea of the album title. The title track wasn't planned, but just so happened, and turned out to be a great opener. The artwork shows the same fighting woman as the last two albums, with two novelties: First, she's going in close this time, not relying on ranged combat. Second, you can see her face for the first time. Both of these facts are highly metaphorical for the way that BOOZE CONTROL has developed."
Next year, BOOZE CONTROL will celebrate ten years a band. Remarkably, they've been able to keep the same lineup, all the while, building a steady following across mainland Europe. "Forgotten Lands" may represent a new conceptual frontier for the band, but the same unbending, memorable metal is still in place, a lot of which has been forged through hard work the last ten years.
"There is a ton of things we have learned along the way," finishes Kuri. "I think the most important one for me would be to talk to people as much as you can: other bands, promoters, bookers, and of course, your fans. Sharing experience and stories is not only great fun, but the best chance to grow you can get."