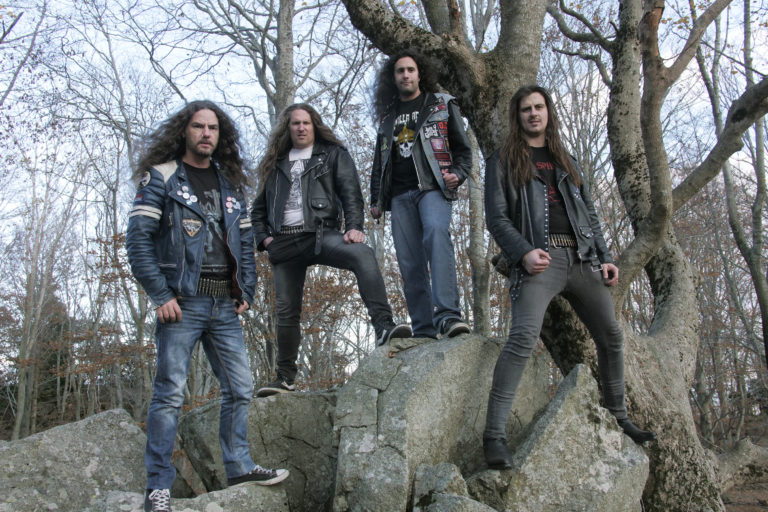 Gates Of Hell Records is proud to announce the signing of French metallers TENTATION. The label will release the band's first full-length album, "Le Berceau Des Dieux", in 2021.
Formed in 2012 in the Occitanie region of France, TENTATION is a French metal tour-de-force — complete with lyrics sung solely in their native tongue. The band released their debut self-titled EP in 2015, then followed it with the "Bruixes / Shaman" single in 2018. The same year, TENTATION teamed up with IRON SLAUGHT for the "- 665 – Les hordes métalliques" split.
The members of TENTATION have been in touch with Cruz Del Sur Music / Gates of Hell Records since March 2016, shortly after the release of their self-titled EP. A deal was discussed but was put on hold until this past July when the band sent some demos. After that, it didn't take long for the two parties to agree to work together.
Comments bassist Guillaume "Guix" Pastor: "We had several proposals and our choice fell on Gates Of Hell because of the sincere passion that transpires from this label, distribution network and the quality of the bands present in its catalog, such as our French friends in HERZEL and MEURTRIÈRES."
TENTATION (who is rounded out by vocalist Patrice "Darquos" Rôhée, guitarist Guillaume Dousse and drummer Laurent "Lole" Metivier) is currently putting the finishing touches on "Le Berceau Des Dieux", which is translated as "The Cradle Of The Gods." According to Pastor, the new album will be more "mature," the direct result of TENTATION spending more time on the songs. The band will be hitting Moontower Studios in Barcelona, Spain next February with Javi Flz overseeing the sessions.
"After we released the split in 2018, we started to write some new songs, some of which, like "L'Exode" and "Le Couvent", we played for the first time in Vouziers for the 'Le Festival de Vouziers' and in Paris for the release party of ADX's new album, 'Bestial', says Pastor. "We had a very positive reaction to these songs — it let us know we were on the right path for completing the rest of the new album."