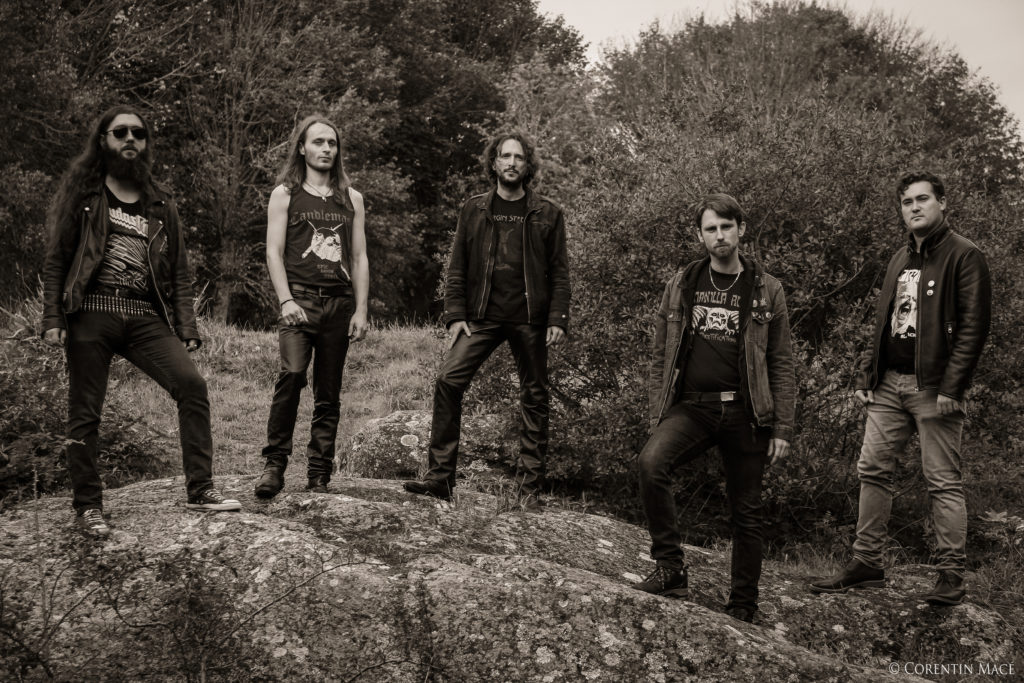 Gates of Hell Records  is proud to announce the signing of French epic metallers HERZEL. The label will release the band's first studio album sometime in 2020.
HERZEL was formed in 2013 by vocalist Thomas Guillesser, who was then joined by drummer Ion Philippon, guitarist Kévin Le Vern and bassist Mordiern Le Dissez. Second guitarist Gurvan Lardeux was the last piece to the puzzle, and shortly thereafter, HERZEL got to work on its debut demo, "Unis dans la gloire", which was released in 2015.
Influenced by U.S. metal stalwarts MANILLA ROAD, WARLORD, QUEENSRŸCHE, HEIR APPARENT, OMEN and VIRGIN STEELE, as well as Celtic and French traditional music, HERZEL offers a unique angle to epic metal. Their songs are sung entirely in French, but fans of the aforementioned bands will no doubt find something special lurking within HERZEL's sound.
"We think that the 'unique' sound of HERZEL comes out from the different types of music we listen to and the fact that we don't put up walls during the composition process," says Philippon. "We want it to be sometimes like U.S. metal with fast and catchy riffs, other times more melodic and epic with ideas that come from Celtic or prog music. Ultimately, we want to play music that sounds epic, that tells the story of heroes, of legends from Bretagne."
HERZEL was brought to Cruz Del Sur's attention by one of the first fans of the band, Luis Ruvio. At the 2018 installment of the Keep It True festival in Germany, Ruivo introduced Philippon to Cruz Del Sur owner Enrico Leccese. "Since I already knew of the label, I knew Cruz Del Sur would be a good fit for our band," notes Philippon. "A few months later, we traded a few more messages and that was it".
Since the 2015 release of "Unis dans la gloire", HERZEL has been gradually working on new songs. Philippon estimates there has been occasions when the band has spent six months or up to a year working on compositions, fine-tuning the riffs, melodies and vocal lines. But, the finish line is drawing near: HERZEL has completed the songwriting process for their first-ever full-length album.
"It will be an album with five new songs," says Philippon. "Three of the songs will be part of a trilogy about a hero called 'Herzel.' Just like the demo, the lyrics will be a melting pot of legends and historical facts that took place in Bretagne."